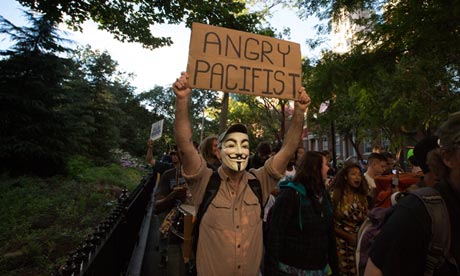 Aditya Chakrabortty
guardian.co.uk
Rarely can a movement have been so hastily obituarised as Occupy Wall Street. The campaign that has done more than any other to thrust inequality on to the political agenda of one of the world's most unequal countries turned one only yesterday – yet already a would-be priesthood is reading its last rites.
Even as demonstrators began gathering in Manhattan last Saturday for anniversary celebrations, the esteemed financial columnist Joe Nocera proclaimed in the New York Times: "For all intents and purposes, the Occupy movement is dead, even as the Tea Party lives on." A similar note was struck in the news reports that dutifully totted up all the weekend arrests of protesters before bolting on boilerplate about "a cause now on the wane". In New York last weekend, I met a hedge-fund manager who recalled how his fellow financiers would froth themselves into a fury over the Occupiers last autumn; nowadays, he said, the subject barely came up.
True, Occupy no longer squats unignorably in the American or British political debate as it did last autumn. Nothing I saw last weekend resembled St Petersburg in 1917. The open assembly at Washington Square Park on Saturday night was jovial but sparsely attended, posing no disturbance to the black pensioners playing chess nearby, although they might have been put out by the dancing crusties and "tribal drummers" at Sunday's concert. And today's big march on Wall Street was planned more as a get-together than a serious resurgence.
But that doesn't justify one of the most interesting political phenomena in years being written off by many of the same folk who never saw it coming in the first place. Indeed, each time they do so, they display a lamentable misunderstanding of Occupy's strengths and weaknesses, an ignorance of how activism ebbs and flows and a complacency about the merits of its arguments.
The most ridiculous comparison is the one Nocera draws with the Tea Party. On the one hand, you have a bunch of rightwing nihilists bankrolled by the billionaire Koch brothers and with their own TV channel, Fox; on the other, you have a rag-tag group of students, the unemployed and a few others with their own Tumblr accounts. Given their different boxing weights, it is remarkable that Occupy has managed to get as far as it has, turning "we are the 99%" into one of the most resonant slogans in campaigning history.
Still critics carp at Occupy for "not keeping up its momentum", as if political campaigns ran as straight-forwardly as Frankfurt's U-Bahn. Let me cite two examples of how that is nonsense. The year before tents were pitched at Manhattan's Zuccotti Park, a US campaign called The Other 98% began denouncing "the elite 2% [who] have rigged the system". Why that flopped while another against the 1% took off is anyone's guess.
Related articles