Melissa Melton
Infowars.com
August 31, 2012
Shocking video published online by extremist Yemeni group Ansar al-Shariah shows a man being crucified on a utility pole as a spy for his alleged U.S. sympathies. The man, along with two others, was executed for supposedly attempting to aid U.S. forces in carrying out drone strikes.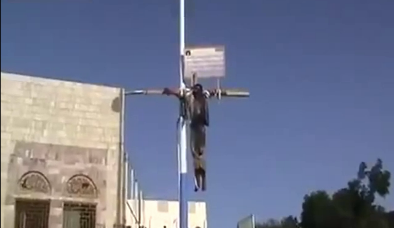 According to the Times of Israel, a sign above the crucified man's head reads verse 5:33 from the Koran: "The recompense of those who wage war against Allah and His Messenger and do mischief in the land is only that they shall be killed or crucified or their hands and their feet be cut off from opposite sides, or be exiled from the land. That is their disgrace in this world, and a great torment is theirs in the Hereafter."
A translated Lebanon Today reportexplains the jihadist group took over Yemen's Azzan region, imposing Islamic Shariah law and subsequently crucifying three men. According to WND, an Ansar al-Shariah leader claimed the men were put to death for "putting sensors on cars that belong to al-Qaeda leaders to be targeted by the drones." One of the men was reportedly crucified at the entrance of Abyan province's Jaar for three days in accordance with Shariah law so he could be witnessed by passersby coming and going from the city.
Related articles